Outdoor Poster Frames with Weather-Resistant & Waterproof Designs
---
Outdoor Rated Graphics Frames & Poster Stands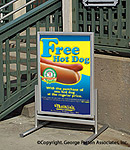 Does your business use outdoor poster frames for advertising or wayfinding signage? These high visibility graphics displays are constructed of rugged materials to ensure they will last for many years to come. The exterior poster frames feature designs that handle a number of different types of climate conditions. Some are built to withstand only mild weather, while others feature a watertight seal to handle heavy rains. The most popular weather-resistant enclosure we sell is the A-frame display, also known as a sandwich board. The outdoor poster frame has a tent-style or A-frame design that effectively promotes messages at any storefront. Several of these models include fillable weighted bases that are especially stable on windy days. AllPosterFrames.com sells these outside poster frames at affordable prices, so every business can showcase their promotions with great success!
What are the different styles of outdoor graphics framing?
Outdoor poster frames are offered in a variety of models. Wall mounts feature quality seals that keep water away from the posted notices. These notice and posting holders are often seen outside the doors of restaurants, showing their bill of fare; on theater walls, showcasing what's playing and what movies are to come; and schools, community centers, and churches presenting important information to students, parents, visitors, and parishioners.
Metal pavement signs and placard holders are more lightweight than others, they should not be left out on days with extreme wind. You will find them on sidewalks showing daily specials and sales events.
The sturdier units are those with bases that fill with water or sand. The double-sided poster hangers are notice displays often seen in retail and restaurant settings. However, they are also found in front of car dealerships, hotels, community centers, churches, and more! With the weighted bases, they are able to withstand quite a bit of wind, making them ideal for businesses around beach communities with a constant breeze off the ocean or other nearby bodies of water.
Polyethylene sidewalk signs are notice boards that have many shapes including A-frame signage and springer models. These signs use special boards rather than posters and other inserts. The rugged plastic makes them ideal for outside use as they withstand rainy conditions.
How will an exterior-rated poster frame help your business?
Poster hangers for outdoor use are built to draw attention to a business. The message boards often showcase sale information, new arrivals, daily specials, and much more. Each message is designed to get people into your showroom.
Standard printed promotions in weeklies and circulars can generate interest from a distance, but sidewalk advertising appeals to shoppers after they have already made the trip to your neighborhood. Thus, the outdoor displays are often more effective at intriguing potential customers because they will actually draw people into your establishment where they are much more likely to make an impulse purchase.
This signage is made to hold any number of items from art prints to advertisements, community center postings to restaurant bills of fare. Each sign, when placed outside a storefront or at street side, attracts the attention of passing motorists and pedestrians. That's the beauty of these ready-made signs. The notice boards, when filled with interesting postings, attract attention without you having to spend an arm and a leg on advertising. Just buy the sign frame once and have the inserts either custom made or made in house! As these picture holders and notice boards are made to handle different climates, they are able to stand some abuse and will absolutely last for a number of years to come. Other outdoor displays include swinging doors with locks to protect graphics and prints from both rain and from being tampered with. Although the included boards are not "signs", they do feature wet erase and dry erase surfaces. This signage is used to advertise or communicate sales, seasonal deals, new units, services, hours of operation, menus, directions, and more!