Modular Poster Display Stands for Custom Promotional Literature Configurations
---
Modular Display Systems - Base Posts, Literature Racks, Poster Holders & Accessories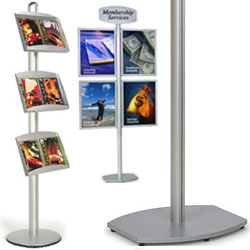 Can modular poster display stands help your business create custom literature configurations that will attract customers? These sales and marketing accessories allow businesses to create custom fixtures that accommodate their exact visual advertising needs. Our versatile modular poster display stands, including the FORTE line of fixtures, consist of a sturdy aluminum base post with channels that allow accessories to be easily attached and removed as needed. The simple design, lightweight but sturdy construction, and ease of use make these freestanding custom graphics and literature holders ideal for use in busy public environments. Our post-base modular poster display stands, also known as custom floor marketing displays, are a superior choice for use in lobbies, entryways, trade show booths, waiting areas, and sales showrooms. A wide variety of finish colors and attachments allow these eye-catching fixtures to accommodate changing sales and marketing materials for any business.
What configurations are available for these freestanding custom graphics and literature holders?
Modular poster display stands start with a sturdy freestanding aluminum post. Available in a range of heights, each pole features a full-length channel that allows accessories to be attached or moved quickly yet remain steady when installed.
Snap frame poster display stands come in a variety of sizes to accommodate standard graphics, signs, or advertisements. Clear acrylic lenses help to protect installed prints, while the quick-clip framing allows images to be swapped out without removing the holder from the base post.
Literature pockets are available in single, multiple, and adjustable bin configurations to acccomodate a wide range of printed materials. Clear acrylic construction allows customers, clients, and visitors to easily see catalogs, trifolds, or flyers.
Metal brochure racks and trays are designed to allow free access and maximum visibility in high traffic areas. The open design allows these add-on accessories to showcase printed sales and marketing collateral in a wide variety of sizes.
Literature and poster display stands with corkboards or bulletin board attachments are an ideal way to add an interactive element to freestanding fixtures. Adding a clip-on tackboard allows staff, customers, or visitors to post business cards and advertisements, messages, or flyers at will.
Freestanding channel-base display stands with clip-on accessories are designed for businesses and organizations that use a variety of sales and marketing materials. The sturdy fixtures offer a simple design where add-ons are easily attached, moved, or removed from the in-pole channel as needed. The range of available accessories for these showroom or lobby floor stands ranges from brochure pockets for printed literature to tackboards for interactive use and includes graphics holders in all sizes and configurations.