Poster Frame Stands - Easels with Included Sign Frames
---
Easel Stands with Poster Frames Included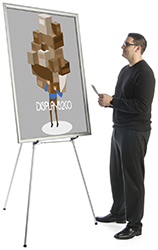 Need a creative way to feature advertisements and artwork? These poster frame stands are excellent for promoting media in a wide range of locations, including retail stores, galleries, restaurants, office lobbies and service organizations. The floor standing signs' minimal design never distracts from the image that really matters, creating a straightforward presentation that fits any subject. This type of poster frame stand, or graphic display easel, is available in a number of different styles to fit any environment. In addition, a wide range of sizes are offered, accommodating common print dimensions. The poster frame stands, while simple, easily draw attention with their prominent appearance and upward facing angle.
What features are included with these graphic display stands?
Our poster frame stands are offered with both metal and wood constructions to meet the needs of any designer or business. Users bringing their graphic display easel to busy areas like trade shows might prefer a metal fixture, while classic establishments may choose wooden models.
Numerous sizes are supported, ranging from 18" x 24" to 36" x 48", to fill spaces small and large.
This selection of floor standing poster frame holders features neutral finishes to blend in with any environment. Our black and silver fixtures can also be used to match or contrast with artwork.
Each graphic display easel has an adjustable design, allowing them to change their overall height or the height at which signs are featured.
The poster frame holders typically include a knockdown mechanism for portability. This makes moving an advertising setup quick and easy without unwieldy transportation and assembly.
All of these frame stands hold images in either a portrait or landscape orientation, no matter the model size. Advertise or promote artwork both horizontally or vertically with these versatile fixtures.
Frame stands like these additionally have easy-change casing, using either a snap-open or rear loading process. Change advertising quickly to accommodate different audiences or remove art to be sold with ease.
This line of graphic display easels, available in a number of sizes, will benefit any user looking for a stand-out fixture with an included image holder. Companies will often bring this type of sign to events like trade shows, banquets and expos. Place one by a booth to draw in passersby with brightly colored prints featuring lots of information. Folding units are made for extra portability, benefiting exhibitors bringing their promotional material to commercial events and artists taking their work to galleries. Outside of merchandising uses, the floor stands are a great way to welcome employees, patrons and visitors when placed in a lobby. The noticeable signs are perfect for wayfinding signage or for simply pointing to where the service line starts. Order from AllPosterFrames.com for quick, same day shipping!