Write-On Easel Stands Featuring Traditional Blackboards or Illuminated LED Frames
Sorry, nothing is currently available here. More may be back in stock soon! For more details or help finding alternatives please contact us via phone or live chat during operating hours.
---
Write-On Easel Stands Go Where Wall Mount Models Can't!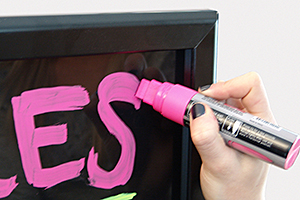 Portable blackboards are invaluable marketing tools for two reasons: they are reusable and can go just about anywhere. Our line of write-on easel stands provides the best of those two points with ease of use and affordable pricing. Bundled with a varied selection of adjustable easels, the markerboards accept either traditional stick chalk or today's wet erase markers, called liquid chalks. The write-on easel stands are excellent choices for targeted marketing, welcoming visitors, and directing people inside large venues. With the multitude of easel and frame materials available, you have your choice of selecting a signage package that best suits your establishment.
What do the different portable blackboards offer?
The write-on easel stands that accept old-fashioned stick chalk feature wood framing that pairs well with the wooden easels. Chalkboards like this bring old-school flair to your interior decor with their rustic appearance. These models are the only blackboards with chalk and eraser storage ledges.
Wet erase sign boards increase their visual impact thanks to the colored markers. Unlike dry erase markers, these cannot be wiped clean with an eraser, rather they require a damp cloth to clean the surface for the next job. On the plus side, wet erase writings last longer and remain brighter. In the case of liquid chalks, their opaqueness and richness of color make them hard not to notice, precisely the point of an easel sign stand.
The markerboards with LED illumination offer the greatest WOW factor, thanks to their multiple color and flashing light effects. These specialized displays can't be use in every application but are well suited for clubs and bars, salons, boutiques, and other establishments with darkly lit interiors. These also use wet erase markers, and the markerboard/easel packages we are selling include a set or eight different colors. The LED effects are controlled by a small button located on the side of the frame where you can scroll through 13 illuminated choices. They are an attention-getter for sure!
Supporting each write-on board is the floor easel. Wooden models look great in artisanal establishments, bakeries, and cafes. The black styles are all made from aluminum and come in three distinct styles:
Economy stands feature thin, lightweight legs with a telescoping design for portability.
A beefier tripod stand provides better stability, a good choice for high-traffic areas.
The art studio model has two legs up front with the third leg behind for a more traditional appearance.
Whichever easel type you end up choosing, the main thing to remember is the portable nature of these sign displays. Unlike wall mounted poster frames or chalkboards, these marketing tools can be placed in showroom lobbies, near entrances, even in the middle of sales floors. Use them to point out seasonal sales promotions, the appearance of a new product rollout, or food and drink specials. With write-on boards, it's all about strategic placement.