Poster Display Easels Offer Strategic Marketing with Portable Presentation
---
Easel Floor Stands Elevate Frames and Canvases to Eye Level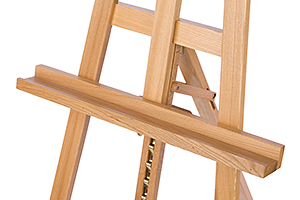 What can turn a poster frame into a free-standing marketing tool? Poster display easels offer a quick and easy way to place targeted content not on any wall, but where more people can see it, out in the open. Taken out of the art studio and put to work for commercial use, these portable sign stands come in a dizzying array of materials and styles to fit in with your interior decor. Poster display easels are found at public events, receptions, malls, shops, and restaurants to name but a few. They display marketing content such as seasonal sales graphics or food & drink menus to entice visitors and shoppers. Our inventory of poster display easels is wide so let's go into a bit more detail on what we have to offer.
Which floor stand styles are available at AllPosterFrames?
Our poster display easels come in two different materials: wood and metal.
From simple wooden profiles to artist studio models, these stands feature solid wood construction with numerous finishes including black, honey wheat, cherry, and more.
The metal easels feature high-end designs made from tubular metal and wrought iron-style. Aluminum stands are by far the most economic, with the telescoping models being the cheapest.
No display stand for poster frames or canvases is worth its weight if it isn't adjustable. Floor easels vary in tilting angle capacity, but height adjustments are more common across most models. Some offer fixed supports without any adjustment whatsoever.
In lieu of their traditional use, these floor easels have evolved into legitimate marketing displays. Taking targeted content and making it more visible with strategic placement is what it's all about. Place an easel in the middle of a sales floor, or lobby or showroom, to attract the attention of prospective buyers. Entice potential patrons at your restaurant with food and drink specials. Or advertise seasonal sales events at your store's entrance. These kinds of marketing ideas can make a difference. Their portable design is another big feature. With some models telescoping down to a handful allows for easier and more convenient transporting. Easels that fold flat stow away with little to no footprint, ready to be brought out for temporary use at a moment's notice. They are affordably priced for almost every budget, so take advantage of a little extra marketing that could bring more traffic to your place of business.