Suction Cup Sign Holders Stick to Windows & Doors
---
Suction Cup Poster Mounts for Commercial, Institutional & Retail Signs and Advertisements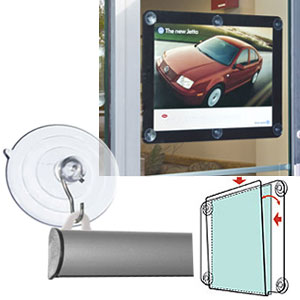 Looking for suction cup sign holders? Our wide selection of sign and graphics mounts for glass windows and doors is designed to attract customer attention at key locations in commercial and retail environments. Clear plastic frames with suction cup sign holders, including window hangers with hooks, come in a range of sizes designed to match any visual display need. From simple single-sided frames for "Open" signage or lists of operating hours to hanging banners and rails for glass-mounted advertising signage, this type of versatile — and economical — graphics framing is a great choice for any commercial operation. Clear acrylic suction cup sign holders can be seen every day in businesses and institutions of all sizes, across all industries. Retail stores, commercial manufacturing facilities, corporate offices, schools, restaurants, service businesses, mall shops, and specialty boutiques alike all find it easy, and economical, to use this type of simple stick-on graphics framing to turn glass windows and doors, or almost any non-porous surface, into valuable, high visibility advertising and informational displays.
What types of adhesive door and window poster hangers are available?
Suction cup sign holders are often pre-attached to clear acrylic slide-in graphics frames. These versatile fixtures can be used with single or double-sided signage, making them ideal for use on glass door panels where they can showcase messaging for customers and visitors as they enter and exit. This simple mount is also perfect for posting temporary ads or messaging on walls and counters, as it requires no holes to be drilled and can be easily moved, removed, and replaced as desired.
Clear window hangers with hooks come in a variety of styles, all designed for ease of use. These simple fixtures attach easily to glass or plexiglas with adhesive or Velcro as well as standard suction-based stick-ons. This type of sign holder is perfectly suited for use with clear plastic poster sleeves, and is a a perfect way to showcase menus as well as details about sales event or specials and other information that changes frequently and/or quickly.
Stick-on clips for hanging banner rails are a perfect way to showcase larger pre-printed signage and posters. These quick-change accessories come in a number of different widths to accommodate a range of graphics sizes, and have no height limits due to their two-piece design. Snap-open banner rails can be used for single or double-sided images, and the sturdy hook mounts can be used directly on the grips or with mounting systems such as chain or nylon rope for oversize, overhead, and even ceiling-mounted graphics displays.
Hanging sign holders differ from "standard" picture or poster frames in that they are designed for mounting without the need for installing hooks or hangers on walls. Suction-based mounting is ideal for any non-porous surface, but is particularly effective on high visibility glass entry doors or storefront windows. Our clear acrylic, plastic, and aluminum mounts can be installed in almost any location, and come in a wide range of sizes to accommodate standard and custom pre-printed signage. User-friendly quick-change designs make these DIY signage hangers a great choice for retail stores, professional and service business offices, corporate environments, restaurants, schools, galleries, and manufacturing environments of any size. These versatile, economical accessories can easily mount high visibility graphics in doorways, in window display areas, and in storefronts as well as in non-traditional locations such as elevators, stairwells, on the sides of counters, bookshelves, overhead architectural beams, and on many other non-porous surfaces.