Frameless Poster Frames with Standoffs for Wall Mount Commercial Displays
---
Frameless Poster Frames - Clear Acrylic Graphics Display Framing with Silver Standoff Mounts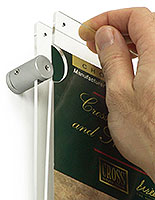 Why are frameless poster frames so popular for commercial and business use? These simple acrylic graphics holders feature simple foldover designs with magnetic closures and metal edge-grip standoff mounting. Clear, frameless poster frames are one of the most versatile, and economical, choices for framing commercial, professional, and even residential displays. The simple slide-in design allows fast changeouts and does not require fixtures to be removed from the wall, making this type of image display a great choice for public environments. Our high-visibility modern frameless poster frames, also known as clear acrylic wall-mounted standoff framing, focuses attention on the graphic and not the enclosure. The easy installation and elegant style will complement any environment, from bold gallery-style art displays to showroom advertising graphics to eye-catching signage for merchandising or wayfinding. Silver aluminum standoffs attach securely to any vertical surface, while built-in tab magnets keep installed artwork, graphics, and signage securely in place. These inexpensive acrylic picture and graphics displays are a great addition to any location that requires high visibility, fast-change image display solutions at an economical price point.
What makes acrylic wall-mounted standoff framing such a great choice for commercial and professional environments?
Frameless poster frames with standoff mounts install easily on vertical surfaces and allow pictures to be swapped out without removing the enclosure from the wall.
Panoramic poster frames with standoffs offer high visibility for landscape orientation imaging, making this style display a great choice for wayfinding signage in corporate, commercial, and retail environments.
Combination poster and literature display frames are a great way to save floor space in conference and convention centers as well as in lobbies, atria, and concourses.
Edge-grip and through-grip standoffs create a 3D effect that attracts attention.
Acrylic wall-mounted standoff framing enclosures are available in a wide variety of sizes, styles, and configurations. From panoramic holders for oversize landscape-orientation graphics to literature holders with built in graphics displays that are ideal for integrated marketing campaigns, to vertical banner displays for special event advertising and artwork, these lightweight, economical fixtures will complement any location. Fast-change edge-grip and stylish through-grip mounting give even the most simple imaging a modern, elegant look designed to attract, and hold, the attention of customers, visitors, staff, and passers-by.