Acrylic Wall Frames are Economy Frameless Poster & Sign Sleeves
---
Acrylic Foldover Frames - Clear Wall Mount Sign Sleeves for Posters & Placards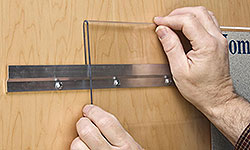 Why are acrylic wall frames so popular in commercial, retail, and even industrial environments? These simple clear plastic sign sleeves are ideal covers for graphics and signage in any environment. These foldover side-insert frameless holders are easy to use, lightweight, and available in large array of sizes for displaying anything from menus to sales advertisements to mandatory compliance placards. Economy acrylic wall frames, also known as wall mounted sign sleeves, offer easy installation and have a fold-over, slide-in design to make swapping out graphics and signage easy. This type of lightweight plastic advertising or literature enclosure is ideal for attracting customer and visitor attention to informational or wayfinding signs in professional, industrial, commercial, and corporate buildings. Borderless poster display holders are a cheap and efficient way of mounting required or compliance postings in public areas, and for high visibility service or restaurant menus, as well as advertisements and branded company information. High visibility acrylic wall frames can be installed using simple screws, nails, or hanging hardware, with removable magnetic or adhesive tape mounts, or mounted on glass using suction cups. These versatile plastic poster or sign displays are a great choice for any business or organization, and come in a variety of styles and designs including borderless, bordered, and with built-in literature holders.
What features are important when selecting plastic sign sleeves for poster displays?
Acrylic wall frames come in a wide array of sizes to accommodate graphics from 8.5" x 11" all the way up to 36" x 48". Showcase everything from promotional signage to menus to wayfinding displays for offices. Some styles offer additional pockets for literature, business cards, or other branded marketing collateral.
Plastic poster displays and sign holders are offered in two grades to accommodate varying display needs. Our economy line of injection molded plastic is lightweight and flexible, while our deluxe line of wall sign frames is sturdy and durable.
Wall mounted frame styles include single and multiple graphic holders, side-by-side advertisements, double-sided suction cup glass mount framing, and poster or sign holders with brochure or business card pockets.
These easy to use plastic wall frames for signs and posters combine an economical price point with a simple borderless style that focuses customer and visitor attention on the messaging, rather than the framing. This type of clear hanging graphics display is ideal for posting wayfinding signage and safety placards in industrial and manufacturing environments, as well as for showcasing bold advertising graphics and marketing messages in service, retail, and professional businesses. Hospitality establishments frequently choose these simple plastic foldover enclosures for daily menu or specials lists, as well as branded signs and advertisements. Double-sided frames mounted on glass doors or windows offer maximum visibility, and are available with suction cups or tape mounts for easy installation. These versatile plastic poster displays range from simple 8.5" x 11" holders for self-printed advertisements or menus to large poster enclosures for pre-printed graphics and compliance displays.
This simple foldover or slide-in framing is designed to allow poster displays to be quickly updated with new graphics without removing the holders from the wall. This easy to use and easy to install design, as well as the economical cost, make this type of plastic poster display a great choice for businesses that need multiple postings. Bulk sign holders with economy construction are ideal for creating consistent branded imaging in any environment. Whether used as corporate wayfinding signage, for posting mandatory safety and compliance labeling placards in industrial and manufacturing environments, for retail sales advertisements, or restaurant menus, these lightweight plastic enclosures attract attention while protecting installed graphics from dust, damage, tampering, or theft.