Glass Clip Frames for Ad Signs, Photos, Certificates, Art Prints & Messaging
---
Glass Clip Picture & Print Frames - Frameless Display Framing for Wall and Counter Use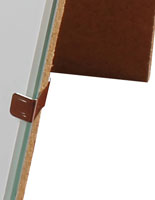 Why are glass clip frames preferred over conventional enclosures? Clear, borderless picture framing comes in a wide variety of sizes to suit every need in an office, retail store, gallery, commercial business, or even for home and private displays. Glass clip frames showcase advertisements, graphics, art prints, posters, or photos, are held together inside the framing using steel spring-clips that affix to a chipboard backing. A clear, tempered front panel protects displays from tampering or damage in public areas. These stylish glass clip frames, also known as frameless picture holders, are extremely affordable and make an economical choice for multi-graphic gallery style mounting. These popular borderless photo frames are designed to attract attention in any location, from promoting brand graphics and logos in reception and waiting areas, showcasing awards in office and professional businesses, holding certificates and diplomas in private offices, or simply displaying artwork or wayfinding signs. These glass clip frames are affordable enclosures for high visibility advertisements and art work in a wide range of sizes from small 4x6 point of purchase displays for cash registers or home displays to oversize frameless picture holders for public wayfinding signs and marketing graphics.
What features make frameless picture holders preferable to other mounting styles?
Glass clip frames are an affordable and modern way to present high visibility graphics and look upscale and elegant in any setting from front office to showroom and from conference room to private office.
Clip frames with chipboard backing secure pictures or posters using a sandwich-style design. Framing is then mounted on a wall or propped up on the desk or countertop using the easel back in horizontal or vertical orientation.
Frameless picture framing looks contemporary with clean lines that never go out of style, and puts all of the emphasis on the contents of the enclosure as opposed to what surrounds it. This type of no-border clip frame will easily match any decor.
Tempered glass is shatter-resistant and safer than conventional annealed glass, particularly for use in store environments and other public locations. The lens also protects enclosed artwork, promotional signage, and family portraits.
Frameless holders ship same day when ordered from our large in stock inventory. Our wholesale pricing model offers reduced price points that make these gallery-style professional-quality picture display accessories an economical choice for resellers, retail store buyers, and corporate graphics or interior designers.
Tempered glass clip photo framing is ideal for residential, commercial, office, and business use. These professional-grade economcial clear sandwich-style countertop or wall sign holders offer high visibility in any environment. In addition to showcasing wayfinding signage, branding graphics, informational ads in corporate environments, this type of clip frame is also a popular choice for corporate gifting or certificate display. Frameless picture framing for business graphics can improve brand recognition, advertise sales events, new merchandise, and more. The wide variety of clip frame sizes makes an elegant alternative to traditonal wooden or metal enclosures for displaying all manner of graphics, from framing documents, to housing portraits for weddings and graduations, to arranging family photos at home. The versatile design features simple metal clamps that attach the chipboard backing to the front panel, making these clear retail, professional, and business décor accessories easy to update whenever needed.
Our professional-grade frameless framing fixtures use clear tempered safety glass that is far more durable than conventional annealed material. Clear, borderless poster holders protect and showcase artwork, pictures, and promotional advertising in vertical or horizontal orientations. The subtle but sturdy steel spring clamps hold together each 1/8" tempered front panel and 1/8" chipboard backer for a secure graphics display designed to withstand use in public environments and focus attention on contents and not framing. Our large inventory ranges from smaller picture-size photograph enclosures designed for desktop display using the easel backing, and larger poster-size framing for commercial graphics and signage that can be securely wall mounted vertically or horizontally as needed.