Specialty Display Frames for High Visibility Marketing
---
Specialty Framing Styles for Advertising Signage and Three Dimensional Displays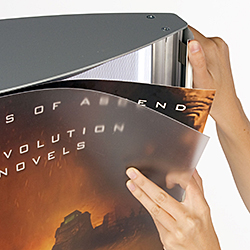 As a retailer, what kind of marketing signage can help boost sales? Our specialty display frames offer much to the store owner. Pictured here is a wide selection of sign holders and poster frames for use in many different situations. The specialty display frames come in floor standing, wall mount, or countertop iterations with some featuring illuminated capacities. Normally, retailers mount and hang traditional, printed graphics throughout their store promoting new product lines, seasonal sales, or other marketing push. There is always more than one way of doing something, and this is where our specialty display frames come into the picture. We offer illuminated light boxes, digital kiosks, sign holders for slatwall, even shadow boxes. Each model offers a unique promotional angle, so let's look into what they have to offer.
What can a distinctive sign holder do for you?
Specialty display frames that light up increase their graphic's exposure twofold. People notice illuminated signs before the printed ones. Our collection of commercial LED light boxes comes in all the standard industry formats, including movie poster sizes. Many models feature very slim profiles, protruding from the wall less than 1". Also available are small countertop styles which are perfect for advertising on upscale cosmetics or perfume sales counters. The floor fixtures offer towering graphics displays that can be seen from a long way away. If you are looking to make an impression on shoppers, we recommend them!
Digital signage has come a long way since first appearing as a scrolling countertop slideshow. In addition to being installed on floor stands for retail uses, integrated software now supports targeted advertising content. Retailers use digital signage to market new lines, give customers a way to choose options, or to provide other informative content that's quickly absorbed. Bar owners employ advertising methods on their TVs to publicize food and drink specials. Available screen sizes run from 15" all the way up to 65". Newly-launched digital floor kiosks are our most popular offering yet. These sleek and modern sign stands come with everything one would expect in a contemporary advertising display. Featuring clean lines and integrated content management, screens are available in standard and touchscreen models. These floor kiosks make excellent advertisers in mallways, lobbies, and other high-traffic locations. The touchscreen models in particular give business owners total convenience. Not only do these signs boost customer engagement, they offer wireless upload and setup. Without needing to connect a device, owners can simply walk up to the screen and start selecting and organizing applications with the touch of a finger.
Slatwall displays are very common store fixtures. They have limitless kinds of accessories such as shelving, hooks, and trays. But why stop there? Slatwall sign holders point valuable attention to your merchandise, whether displaying a sale price, presenting "go with" ideas for customers, or simply calling attention to items you want to move fast. Our slatwall sign holders are made with crystal-clear acrylic plastic and come with the standard slatwall insert hook common to the industry. Size options start at small 5.5" x 8.5" frames up to a poster-sized 22" x 28".
Shadow boxes are constructed just like standard poster frames, but with one important difference. These display frames come with deep interiors with some models featuring a full 4" of depth. That means three-dimensional items can be added inside, like sports jerseys, jewelry, antiques, and art. Retailers apply these fixtures in different ways based on what they're selling, but adding one or a few to your establishment will create another visual dimension to your sales arsenal. Schools also mount shadowbox cases to display and protect award ribbons and photographs. These frames are also bought for consumer use to display personal mementos or collectibles.
All of these displays offer something distinctive when compared to standard poster frames. Try spicing up your marketing strategy with an illuminated lightbox, or add a digital advertising display at the sales counter. When it comes to merchandising, a varied approach gives viewers plenty to look at and at the very least, makes them spend more time inside your doors.