24x36 Poster Frames - Commercial Quality Graphics, Art & Sign Holders
---
24" x 36" Frames for Posters, Art, Ads & Commercial Signage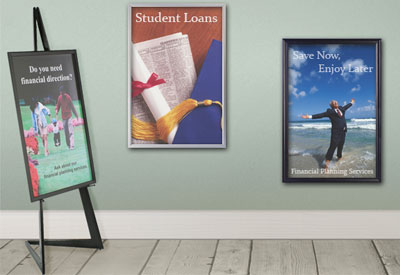 Are you looking for commercial quality 24" x 36" poster frames for business or professional display use? This comprehensive collection of print holders is among the largest found anywhere on the internet, so finding the model that suits your purpose is easily accomplished. Our ready made commercial 24 x 36 poster frames, called 36 x 24 frames when used for displaying landscape orientation signage, are manufactured from a variety of different materials. Our wide selection of in-stock framing includes wood, metal, and acrylic picture displays that are all professionally crafted for durability and ease of use. These versatile 24 x 36 poster frames are easy to search according to function, finish, or price. Economy graphics enclosures, which are commonly made from extruded plastic, provide affordable solutions while deluxe versions take advantage of higher quality substrates and offer more extensive features. Most of these 24 x 36 poster frames and frames for 36 x 24 graphics have traditional wall mount designs, although there are many free-standing floor mounts, art easels and hangers, and even LED-illuminated lightboxes. Some notice displays even combine multiple amenities into one convenient unit. Other 24 x 36 poster frames are approved for outdoor use. Whether you are in the business of advertising or you are just looking to celebrate your preferred movie, there is an option. AllPosterFrames.com is a leading supplier of poster frame equipment with hundreds of choices, so search the massive assortment to discover your preferred style!
What are the various styles of 24" x 36" available?
Basic acrylic 24 x 36 poster frames are thin and generally designed for wall mounting. Office buildings often exhibit wayfinding signage with this type of economical readymade picture displays. Landscape frames' 36 x 24 enclosures and traditional portrait orientation 24x36 alike are mounted with simple screws or mounting brackets that allow them to be put up and taken down with ease. This feature is helpful when it comes to changing sign contents.
Aluminum snap frames, also called quick clip models, have spring-loaded borders that pop open for access. These allow the fastest sign updates of any of the models, as they load straight through the front without requiring the enclosure to be removed from the mounting surface. In addition, they are some of the most rugged options for 24" x36" graphics framing.
Wooden and metal swinging frames, 36 x 24 and 24 x 36, are pretty self-explanatory. Hinges are mounted to one side of the front, which results in a door style opening. Some of these print fixtures have locking mechanisms that prevent tampering and vandalism when installed outside (in the case of exterior-rated models) or in high volume businesses.
Poster stands are sold in both economy and designer styles. Standalone 24x36" units will show movie posters or art in the home or advertising on the retail sales floor. They are also seen at trade show events and hotel lobbies. Several are even double-sided for twice the advertising power!
Exterior-rated 24"x 36 displays for posters help communicate with prospective customers and passersby on exterior of a business. These versions are either enclosed wall boxes or are standing placard displays. Rubber gaskets line the framework to keep out moisture and other damaging elements.
Light boxes will blow the socks off your competitors with their vibrant art presentation. The 24"x 36 panels light up using LED illuminating technology. These picture displays make otherwise dull prints very eye-catching so they stand out more. The LEDs used to light the boxes last longer than conventional neon or fluorescent sign systems. Put one in a storefront window to advertise day or night!
Making the right selection for your 24" x 36" print is crucial, so be sure to look at all the options to discover the appropriate offering.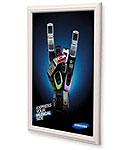 The uses for 24x36 notice holders grow by the day. The size is large enough to see from a distance yet small enough to be set up in all kinds of locations. For this reason, advertisers and retail store marketers frequently apply them. The 24" x 36" readymade print fixtures showcase new merchandise, services, facilities, and causes throughout businesses and organizations. In addition, financial institutions and banks use picture display holders like these to detail interest rates or terms and conditions of service. Individual hobbyists and movie buffs even use the ready made frames to create presentations of their preferred film actors, sports stars, and other popular entertainers in their homes. College campuses and primary schools use picture displays throughout their locations to hang motivational art, directional postings, and other helpful notices. Tell us what uses you have come up with for the sign enclosures.
What are some of the features that every 24" x 36" poster frame shares?
All of readymade print art holders are outfitted with some kind of overlay or cover to preserve inserted graphics. In fact, most have plastic lenses that are safer than glass panels. In the event the poster framing falls off the wall or tips over, the thin coverings will flex rather than shatter.
Every picture holder features easy loading capabilities and can be used in 24 x 36 portrait orientation or as a landscape format 36 x 24 frame. While some models are easier to load than others, our company strives to offer only units that enable speedy sign updates.
Low prices are yet another shared trait of the variations. The 24x36 displays are sold at the lowest possible costs. Additionally, most can be purchased in bulk quantities at wholesale. Larger orders ensure more savings for customers.
Fast lead times are offered on almost every preference. As long as the items are in-stock and your order is placed before 1 p.m. EST during the normal work week, they will ship out the same day. How's that for service?
Of course, AllPosterFrames.com supplies many more sizes than just 24" x 36" models. There are readymade counter mats, outdoor wall mount displays, deluxe floor standing totems, and more items at cheap prices in a variety of categories. With so many category choices, customers can become overwhelmed at times and unsure of what to buy. If questions, comments, or concerns, come up, feel free to contact our consumer service department.