Poster Holder Stands | Top Insert 22" x 28" Sign Displays
---
Poster Holder Stand - Floor Standing Signage Fixture in Metal & Wood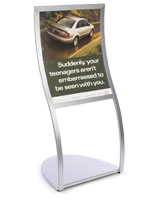 Why do so many businesses include these top insert poster holder stands within indoor store advertising strategies? The floor standing signage displays offer a great deal of versatility that allows users to setup the fixtures in the optimal position in the establishment. Picture fixtures provide promoters with the ability to share messages with clients in an attractive manner. Many merchants install the graphic holders in the entranceway to welcome patrons or guide visitors to specific areas of the shop. Position the durable floor standing signage displays in lobbies, aisles or near information kiosks to promote and inform interested consumers. The fixtures for visually stunning graphics may be setup in almost any central location to generate the desired buzz about goods, services or the whole company. These commercial poster holder stands with attractive finishes and designs, commonly referred to as floor sign frames, accommodate 22 x 28 pictures to elegantly present large images, logos and other content. The signage displays have stable bases and rugged designs for long lasting use. Floor standing picture displays feature a simple top insert design that lets employees quickly change graphics. Simply remove messages from the opening and slide the new content through the slot. The floor sign frames only require a few moments of time to start an advertising campaign. These poster holder stands are floor standing signage displays that include a plastic lens to prevent dust and fingerprints from affecting the pictures. Fixtures for graphics come in different finishes and styles to coordinate with the promotion and the décor. These stands are aesthetically pleasing, but will not detract from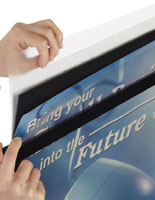 the signage. The floor sign frames can be purchased with additional features to accommodate literature and other printed materials. Professional stands help dole out brochures with more information about the featured goods or services. Floor standing picture displays can serve as wonderful addition to the promotional strategy.
What types of content do companies advertise with the floor sign frames?
These poster holder stands can be used to garner interest in any 22 x 28 graphic. Many locations elect to promote goods, product lines and other new merchandise with the floor standing picture displays. Retail stores and boutiques place the fixtures near the advertised wares or by the cash wrap to incite business. Car dealerships often have displays on the showroom floor to provide more information about the specific vehicle.
Companies often elect to present patrons with pictures that market services. Banks and other financial institutions inform customers about the current interest or loan rates in the lobby. Restaurants showcase dishes to entice hungry clientele. Almost any business that provides a service can utilize the framing.
New corporations and organizations use the floor standing picture displays to provide important name branding and logo info. The fixtures for graphics can help get the word out about the company at a tradeshow, conference or convention.
These poster holder pedestals are all manufactured out of sturdy materials to endure frequent use. Metal freestanding fixtures for pictures provide a sleek and modern border for the visuals. The neutral black and silver finishes are certain to blend in with the atmosphere. Pedestals constructed from aluminum or steel may be purchased in a double sided design to attract customers from either direction. Select metal frames include multiple frameworks or brochure racks. Wooden pedestals are also available for a slightly more upscale look. Advertisers can choose signage displays with different finishes to match the décor. These wood options may also help hand out literature depending upon the style purchased. Present a novel concept or simply solidify a current advertising strategy with the freestanding picture displays.