Snap Poster Stands | Front Access Displays with Spring Loaded Edges or Magnets
---
Snap Poster Stand - Freestanding Front Loading Frame for Quickly Inserting Signs & Advertisements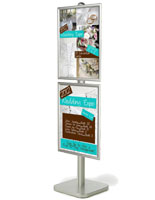 What makes these high quality snap poster stands such popular options for retail stores, restaurants and many other industries? The front access promotion frames allow users to quickly change out old signage for new advertisements. Spring-loaded edges and magnetic framing make it so merchants, store employees and other promoters no longer have to fiddle with back loading units. These freestanding snap poster stands for 22 x 28 advertisements, commonly referred to as quick clip sign holders, increase the visibility of the graphics. Displays for visual promotions may be setup on showroom floors, in vestibules, near cash wraps, close to information kiosks or other spaces that receive a great deal of notice within the establishment. Each of the freestanding frames is constructed out of durable materials to support the promotions in areas that receive a great deal of foot traffic. Metal framework offers a great deal of stability for the images. Lenses are provided to protect the pictures from dust, dirt and other indoor elements. These snap poster stands are professional grade front access displays for advertisements that come in various styles to aid the marketing effort. Quick clip sign holders may be purchased with literature racks or trays that will dole out printed materials to interested shoppers. Certain models with spring-loaded edges include multiple framing options to accommodate many advertisements at one time. These stands feature sleek exteriors with visually appealing finishes to entice clientele. Quick clip sign holders can serve as a welcomed addition to a school, trade show booth, sporting arena or any other location trying to garner attention. Wholesale stands allow users to custom build a memorable presentation that could increase sales.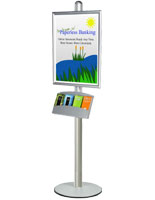 How do advertisers make signage changes with the quick clip sign holders and other front access displays?
These snap poster stands come in couple different styles, but both styles allow promoters to easily load advertisements into the freestanding fixtures. Most of the frames for signs feature spring-loaded edges. Each of the four sides of the framing includes flat hinges that quickly open and shut. Users simply need to flip open the borders and position the content in the appropriate position for viewing. Merchants can then close the spring loaded edges to clasp onto the graphics.
Totem design frames for promotions feature a plastic front panel. Users must open the full length lens from the side to load in the desired advertisements and signage. For added convenience, the front access panel includes a cut-out for carefully removing the lens and accessing the signs. Freestanding displays of this style only require a few moments to change information.
Front access sign fixtures are available with fold down lenses. All advertisers need to do when altering the promotions is flip up the covering. The freestanding displays secure the sign with a magnetic border that attaches the lens to the fixture.
Many promoters choose to augment the 22 x 28 sign promotions with supplemental advertisements. These snap poster supports are available with compartments for presenting all sorts of literature to potential customers. Advertisers can choose a single plastic box for a stack of brochures or multiple trays for promoting numerous catalogs and magazines. Snap poster accessories are available with different size literature holders to accommodate the specific dimensions of the printed material. Attractive signs and graphics lure customers to the freestanding displays and hands out the published promotions. Front access supports are capable of informing customers about almost every aspect of a business.