Standing Poster Frames | Side Insert Signage Stands
---
Standing Poster Frame - Freestanding Displays for Printed Graphics & Other Signage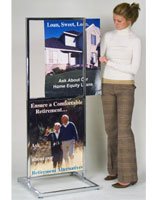 When are wholesale standing poster frames appropriate for use in a promotional campaign or marketing strategy? The freestanding displays for 22 x 28 printed graphics can be used for almost any occasion. Side insert picture stands are often used in the aisle or at the entranceway of an establishment to attract attention from shoppers. Managers position the signage fixtures in central locations or areas that receive heavy foot traffic. The freestanding displays for printed graphics increase the likelihood that customers notice the advertisements because the brilliant images and messages are placed in the walking path of shoppers. These side insert standing poster frames with durable designs, also commonly called floor sign holders, are designed specifically for presenting 22 x 28 signage and prints. The print stands allow users to slide-in the printed graphics through the channel for fast image installation. Freestanding displays are constructed out of rugged materials to last through many different advertising campaigns. The floor sign holders have different designs to accommodate multiple signs or literature. Mobile print fixtures are available for users interested in rolling the unit from room to room in the establishment. These standing poster frames are affordable freestanding displays for printed graphics that can be used in many different industries. Retail stores, trade show booths, hotels, schools and many other businesses use the signage stands to garner interest from passersby. Professional frames may be purchased in different colors and styles to fit the overall décor of the location. The floor sign holders have small, but stable bases to conserve precious floor space in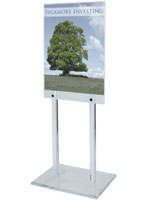 smaller venues. These frames impress clientele with attractive printed graphics and literature.
What types of rugged materials are used to manufacture the floor sign holders?
These standing poster frames come in a few different constructions, but each one is very sturdy and durable. Most of the picture stands feature an acrylic fabrication. In many cases, the entirety of the freestanding signage fixtures is made out of the durable plastic material. Managers can purchase freestanding displays with a laminate covered MDF base. Color options include black and clear for a neutral appearance.
Freestanding signage displays are also available in metal. The aluminum construction is solid enough to last a long time, while giving the promotional campaign a modern look. Black and silver brushed metal stands come with an acrylic frame or metal channel for sliding in printed graphics from the side. Aluminum designs will increase the prominence of custom prints.
Many advertisers elect to buy side insert picture stands that include a literature pocket. These brochure racks are crafted from sturdy acrylic, the same durable material used to construct many of the freestanding displays. Casters, which are available with some of the holders, are made out of black plastic.
These standing poster systems provide merchants and advertisers with a fixture that presents 22 x 28 in a visually appealing manner. The side insert channels make it simple for users to quickly insert the latest content. Prints slide right into the secure standing poster holders. Promoters will also have no problem removing the content from the channel when ready advertise a new product or service. Almost every business can effectively utilize the systems to increase awareness. Use a single print, multiple signs, or a double sided advertisement to market the latest items. These tall print holders keep the attractive graphics off the wall and into the sightline of even the most preoccupied shoppers.