Small Poster Frames for Floor-Standing Graphics & Advertising Displays
---
Small Poster Snap Frames, Slide In Graphics Holders & Menu Stands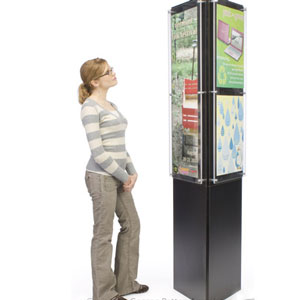 Are small poster frames the perfect fit for your office, business, retail location or lobby? Our expansive line of smaller graphics stands includes a wide variety of durable, space-saving, floor-standing displays. Free-standing small poster frames are designed to fit into lobbies, concourses, atriums or entrances and frequently to provide guests with flyers, brochures or other information packets. The customizable enclosures are designed to hold graphics and logos from 14" x 22" to 18" x 24". Commercial-grade small poster frames, also known as freestanding sign displays, are ideal for high-traffic and busy areas.
Where can these freestanding sign displays be used?
Small poster frames are perfect for lobby, entrance and foyer settings as they take up minimal space and provide guests with flyers or other information upon arriving at your business.
Community centers, schools or town halls use this type of signage stand to promote community activities or upcoming events and provide people with calendars, maps or visiting information.
Portable sign holders with wheels are great for trade show and exhibition settings as they can complement any booth or setup.
Restaurants, cafes and bars can freestanding sign displays to promote drink specials, upcoming deals or to showcase their menu to patrons in the waiting area.
Retail businesses use portable poster frames on the sales floor and in entryways to highlight weekly specials, discounts and sales.
Sturdy metal and acrylic construction ensures years of use and prevents damage and dents. We carry a variety of styles and colors that can be matched to the decor of any business or location. Quick-change enclosures feature simple snap-open, slide-in or magnetic designs that allow business owners to change the promotional literature as often as desired. The freestanding bases are crafted to provide a stable footing for the sign and frame that won't topple over or tip. Many models include ready-to-use literature holders are made to provide easy access to printed takeaway materials. This size of display fixture offers the easy access of smaller graphics with the high visibility of larger signage.
Because quality assurance and customer satisfaction is of utmost importance to us, we ensure that are units are crafted from high-quality aluminum and some models include clear lens coverings to protect your prints and graphics. We encourage you to browse our entire line of display products to find the products that best suit your business and needs. These freestanding sign displays are the ideal stand for a huge variety of locations and can even be used outdoors under certain circumstances. Invest in a floor holder for your business today and provide your guests and customers with flyers and brochures to make the most out of your advertising and promotional dollars!