Poster Shadow Box Frames | Framing Cases for Memorabilia
---
Shadow Box Frames - Display Cases for Posters, Keepsakes & Awards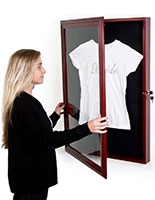 How are poster shadow box frames and memorabilia cases used in public settings? These wall-mount fixtures come in many sizes and thicknesses, so creating custom presentations with three-dimensional items is simple. These poster shadow box frames, also known as hanging collectibles cases, have tempered glass doors that lock, which is ideal for retail or office settings. The collectible displays are great for holding valuables like photos, awards, and other memorabilia. Most of the cases feature a sponge backer that uses push pins or Velcro tabs, so there is no need for glue! Safely display plaques, military medals/insignia, hats, T-shirts, and artwork in these poster shadow box frames for all to see without worrying about tampering!
What are the important features of these wall hanging collectibles cases?
Poster shadow box frames have a sponge backboard for push pins and Velcro so items are movable. Presentations can be changed and updated in a matter of minutes, which is excellent for stores or individuals seeking versatility in their displays.
Discount display cases are high quality, especially when purchased in bulk, which saves money. The more you purchase of an item, the lower the cost per unit becomes!
This type of framing is much deeper than other styles, so photo collections and 3D memorabilia can fit inside with little effort.
Most of the display fixtures are also lockable to prevent theft when placed in high-traffic areas and entryways!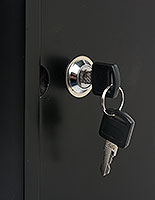 Many of these box frames are lockable and usually come with two keys to keep important items secure from theft and damage. Each of the high quality hanging collectibles cases is finished in black, cherry, or oak, with ample space for pinning treasured items, artwork and crafts. The inexpensive frames are made of durable tempered glass that is resistant to breaking, but on the off-chance it does break will break into pebbles vs. shards, so it's safer to clean up! These photo display cases enable the user to arrange a custom presentation of valued possessions such as contest ribbons, awards, military valuables like flags, artwork, and recognition plaqes in an attractive, 3D cabinet. These black, brown, and tan box frames with sponge backing are available in different sizes and thicknesses. Make a powerful presentation out of your valued memorabilia, from military insignia to company awards and ribbons!
These wall mounting frames are lockable for safe storage of your keepsakes in these hanging collectibles cases. These showcases ensure that valued items such as contest ribbons, T-shirts, medals, and art will not be stolen or damaged when placed in a public space. These cabinets include tempered glass to protect items and allow clear viewing of stored objects. The sponge backer on this case accommodates Velcro and push pins, which makes it easy to move items around or incorporate new ones! These decorative box frames for keepsakes are also great for presentations of artwork and sports memorabilia at a school, in a community center, at a library, and virtually any public venue to showcase 3-D objects. Shadow box framing displays, such as hanging collectibles cases, are perfect for a custom presentation of treasured items in a home or retail gallery!
What types of items are best displayed in a tempered glass container?
Military insignia that belongs to armed forces veterans or their families is commonly showcased in the frames. This way, they can celebrate the commitment of servicemen and women.
Artwork and crafts by school children, adult art organizations or church groups are also great for these deep frames. Even science projects, like butterfly exhibits, can be placed inside during fairs or seminars.
Sports, scholarly, and professional recognitions, plaques, ribbons, and trophies look their best when featured in one of our high-grade display cases.
These decorative memorabilia containers have a sponge backing for push-pinning and Velcro that won't compromise the contents being displayed! These box display cases in oak, cherry, and black finishes are easy to hang with the accompanying hardware, and easy to maintain. With so many sizes and styles of photo collectors to choose from, this company prices framework items to sell and purchasing in bulk reduces the cost exponentially. This shadow box framing like picture cases is just one way to highlight treasured items; there are many more custom frames and picture cases for making presentations. These hanging photo collection cabinets feature tempered glass protect your insignia and they are stocked by the 100s. Buy black, chestnut and oak framing for multi-dimensional picture collections. Expect fast delivery from this trusted supplier of high quality professional military emblem or artwork framing that are quick-ship from multiple framing display warehouses. The box frames are highly sought after by collectors who want to protect valuable antiques, memorabilia, and insignia from dust and crinkling. We are the trusted supplier of cheap, professional-grade photo display showcases. Get yours today to protect special emblems and other recognitions!