Poster Easels & Frame Stands for Displaying Ads, Signs or Art
---
Freestanding Frame Easels Support Large Poster Boards, Signs & More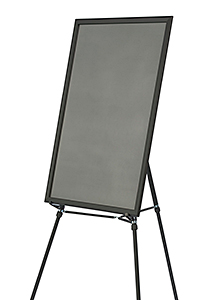 Is your poster display missing something, perhaps that elegant touch you are looking for? These freestanding poster easels are the perfect complement to any of our framing options because they put the focus right on your graphics! The frame stands and holders are available in a variety of materials, finishes, and styles. There are folding poster easels that feature tripod configurations with retractable legs as well as slim bifold options. Either way, the user can rest assured that their display stand is lightweight, transports easily, and stores neatly in tight spaces. Many of the designs are adjustable, which enables them to hold a wide range of frame sizes. A classic wood finish poster easel, sometimes called a frame stand, is ideal for use in restaurants, galleries, and a great number of other locations for this reason. Place one near an entryway, in a corner, or alongside another display to get the attention of your customers. Our online selection features poster frames and easels at such low prices that everyone can afford them! Browse the various styles and designs to get the right one for your application or frame size!
How many different types of poster frame stands are available?
Our company features several poster easel options. There are bundled packages that include both the frame and the stand, as well as write-on models for handwritten messages which are perfect for first-time buyers. The easels are also sold individually in a variety of designs in wood or metal. Most every style has adjustable components that make setting up a presentation a simple thing.
Wood easels have a frame that is shaped like a slanted "L", which folds in half. Wood frame holders are available in many stained finishes, so there is one to match every décor. Wooden easels are very popular for art galleries, studios, and classrooms.
Metal stands typically feature the conventional tripod shape, but many are available with a number of different decorative accents. Some have scroll patterns that add an upscale look. Customers are able to select from a plethora of finishes. Aluminum display easels are lightweight and portable, which are ideal features for a number of applications or locations.
The economy models feature standard tripod designs with telescoping legs for added portability, and in some cases even come with their own carrying case. One of the best parts about these economy designs is that they help businesses reduce cost with bulk orders. The more that are ordered, the lower the individual price!
Other than an art gallery, where can you use a poster frame easel?
We cannot discount the importance of using these easel racks as artistic displays. They are the perfect choice for museums, studios, and art galleries. However, many restaurants use these great exhibit racks to showcase daily food & drink specials. They are great because they don't require any wall space and may be set up and taken down as needed. The display racks usually sit in the front of the house where customers wait for service from a hostess. This way, they can preview the special entrees and dessert items prior to being seated at their table.
Hotels and conference centers often use these tripod displays in their lobbies to showcase special event schedules, local attractions, and even to promote the services provided to guests. Important facilities or locations are commonly detailed on a board that can easily be placed on a frame stand.
Large retail outlets also prefer the portable exhibit stand to showcase products and services. As these units are portable, they may be placed everywhere in a showroom at a moment's notice. They do not bind a business owner to a wall for advertising. Strategic storefront window placement is highly effective in these types of environments.
These great poster display exhibits are used in many other settings including church meeting halls, community centers, government buildings, and schools. They can also be used as a directory to help guests locate their intended destinations.
Find the right art print stand or picture frame holder for your business so you can exhibit a variety of important messages to customers or visitors. Whether you are a restaurant that presents a list of menu items or a car dealership that showcases new model specifications, these ready made display stands are the way to go. This is especially true because they are portable in many cases. The freedom to move a sign to any location in a showroom, conference center, or trade show hall increases the advertising power of any business or organization, so get one today!