Electronic Photo Displays & Programmable Digital Poster Frames
Sorry, nothing is currently available here. More may be back in stock soon! For more details or help finding alternatives please contact us via phone or live chat during operating hours.
---
Digital Poster Frame Accessories & Electronic Photo Displays
Have you looked at the selection of traditional signage equipment, but still aren't able to find something that catches the eye? These electronic photo frames and digital poster frames are the contemporary method for communicating information and advertising with customers or visitors. The multimedia screens represent a new direction that has taken the marketing sector by storm. These programmable electronic photo frames are more beautiful to viewers and tend to hold their attention for far longer than static promotions. Each of the bundled digital posters comes with everything needed to develop a complete sign presentation: an LCD monitor, a built-in media player, and a mounting bracket. The electronic photo frame, also known as a digital advertising kit, is available in several sizes to accommodate the individual needs of any location. The signage packages have a higher startup cost than conventional print holders, but the updateable nature of the devices saves money in the long run by eliminating printing expenses. In today's competitive market, digital and electronic poster frames are crucial because merchandise and services change much more quickly than they use to. As a result, the custom advertising systems are being used throughout all kinds of professional environments, including retail stores, bars & restaurants, hotel lobbies, gyms, and universities. Bolster your advertising campaign with these modern and innovative display tools!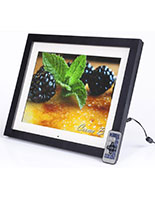 What features does an E-picture frame offer?
Each electronic photo frame has either a tabletop or floor-standing design. Units that include desktop stands or brackets are ideal for retail counters and other commercial checkout areas. Floor stand packages are much more suited to open sales floors in department stores and factory showrooms. These digital sign displays are commonly seen at trade shows as well as shopping malls.
Screen sizes range from 15" to 21.5", so customers are able to find the perfect model for their specific media and application. Large signs deserve more attention, so a larger screen is optimal. Other times, users just want to display a slideshow with smaller portraits or images. In these cases, the smaller units are great. Of course, images will be highly visible on any of our display sizes.
Internal storage comes standard on all these digital photo players. This way, the user can simply plug in their mass storage device (such as a flash memory stick or external drive) to the unit, load the media, and then unplug the drive. This ability frees up the drive for other uses, so multiple units can be managed without monopolizing personal storage devices.
What components come with each digital poster frame?
A commercial-grade monitor is the basis of every package. These screens are offered in a number of different sizes including 32", 42", and 55". There are both LED and LCD style televisions from well known brands, like LG®. Most every model is rated for extensive use and even includes a longer manufacturer's warranty for this reason. Any of the choices can be displayed in either landscape or portrait orientation, and they all will double as regular TVs with a cable connection!
A digital signage media player also comes with every set. Some are external, but many are actually integrated right into the monitor, itself. In either case, the players will showcase images and videos. The content is added by the user with a simple USB memory drive like the e-picture frames. Just connect the flash stick to a personal computer, load the desired advertising content, and then plug it into the media player. A few of the models have bundled software packages.
All of the kits have some sort of provided mounting bracket. Some units have standard tabletop mounts, while others actually come with a wall mount. Many of these mounts enable vertical or horizontal mounting, but we encourage you to read each item description before making a purchase to be sure. While most of the brackets that attach to the wall feature thin profiles, some extend, pan, and tilt. This wide range of motion lets the user set the ideal viewing angle to avoid unwanted glare or uncomfortable vantages.
Floor sign kiosks are our newest offerings for today's digital transformation. Featuring an integrated design, the screen and built-in media player are encapsulated inside a sleek monolith. The modern appearance lends itself well to contemporary interiors. For those looking to offer interactivity, we offer the same models with touchscreen versions. This not only provides a better user experience, but also better convenience for the owner. Apps and programs can be uploaded wirelessly without having to connect via external drive or computer. What's more, the person managing the kiosk simply walks up to the touchscreen to set up the display with a touch of the finger. The speed and convenience this offers can be compared to that of your typical cellphone.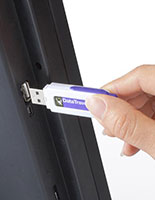 These E-posters are very simple to set up. If included, stands or wall mounts securely attach the LCD monitor for a safe display. One of the advantages of a configuration like this is that the flat screens take up about as much as space on a wall as any traditional printed advertising fixtures. The difference is that the media player systems enable instantaneous edits and updates without the need for reprinting paper signage materials. In addition, LCD monitors are much more likely to captivate onlookers. Customers and guests are three times as inclined to watch a changing advertising presentation that typical signage exhibits. This fact will help increase traffic and ultimately boost sales.
The standout feature of these signage bundles is that hardly any technical knowledge is necessary! The plug & play media player shows custom marketing messages and promotions using basic USB thumb drives or localized networks. Users can perform changes and updates to advertising messages in very little time, which is essential to any fast-paced, serious business. Even live TV w/ zoned content is possible on some styles. The world of signage does not wait for the process of submitting, printing, reprinting, and delivery of updated information, so why should you? Place an order for new fully-functional wall mounted or countertop LCD monitor media player combo displays today and save with wholesale prices. For over three decades, AllPosterFrames has been fabricating and distributing premium quality display fixtures to a continuously growing customer base.