Cheap Poster Frames for Bulk Order have Inexpensive Plastic Extrusion Framing
---
Cheap Plastic Poster Frames are Perfect for Bulk Purchase & Display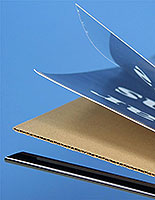 Are you in the market for cheap poster frames for bulk purchase? These economical plastic displays are perfect for framing advertising signage, art or promotional prints. Lightweight extruded cheap poster frames are less expensive to make, so they are ideal for purchase in bulk quantities. In fact, the low cost of construction enables us to pass even more savings onto our customers. Ready-made cheap poster frames come in all sizes and styles to suit any number of uses (and budgets). A wide variety of color options make matching particular graphics or signage to the plastic holders easy. Commercial cheap poster frames for businesses, sometimes referred to as plastic extrusion framing, are a superior choice for protecting printed ads or signage displays without breaking the bank or budget. AllPosterFrames.com offers a huge selection of economy options in addition to our premium display solutions, all at wholesale cost to allow businesses, organizations, and individuals afford the ready made framing supplies they need.
What makes economy graphics display framing so inexpensive?
Ready-made cheap poster frames have thin plastic slide-off edges that fit together around the graphic inserts. Our extrusion framing styles come with either corrugated cardboard back panels or rigid plastic backers that provide support to print art.
Economy plastic construction uses a non-reflective, clear acrylic overlay rather than heavy glass to protect signage or picture displays.The main selling points of these inexpensive poster frames are their easy swap-out design and light weight. Available sizes run from 8.5" x 11" up to 36" x 48".
Our lowest-priced ready made poster frame extrusion series incorporates 1/8" thick corrugated cardboard backing. It is important to note that this material is relatively thin and may bow in some areas, especially with larger sizes. Again, these selections are intended to be economy solutions so they are best utilized when attached to a sturdy surface. The included moldings measure 1/2" thick and have a Mylar coating for longevity.
We also offer slightly more expensive extruded poster frames with backboards made from sturdier black, 1/8" corrugated plastic. This substrate is stiff and less susceptible to bowing than cardboard. The plastic extrusion border is also thick, measuring 3/4". In addition, an inner lip surrounds the edging to help securely hold the postings in place.
A few attributes are shared by every model. First, any of the styles can be mounted either vertically or horizontally. Secondly, a protective acrylic or plastic lens is either included or comes as a component, so art inserts remain protected. The graphic enclosure sizes are standardized to enable a perfect fit for every print size.
Economy display framing styles are ideally intended for those looking for an inexpensive way to showcase art, signage, notices, movie graphics, or marketing advertisements. In many cases, bulk framing is needed for gallery style presentations or to ensure branding and imaging consistency, and our economy plastic extrusion frames are designed for purchase in bulk quantities. The "CF" and "CCF" lines work well in retail stores, restaurants, and shopping malls, where they showcase larger postings. This type of easy to use ready-made graphics holder can also be set up in business offices, professional organizations and service businesses, shared workspaces, and school or college campuses. Because they are such an affordable option, anyone from a corporate office manager to a boutique retail store owner to a private collector or hobbyist can afford these inexpensive art hanging fixtures, and the wide variety of styles ensure that a match can be found for any graphics or decor.