Hanging Sign Frame | Ceiling-Hung Foldover Display
---
Hanging Signs - Single Frames with Hardware for Overhead Displays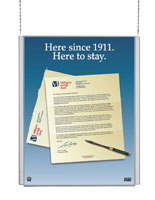 Why do trade show booth operators, real estate agencies, retail stores and other businesses incorporate these affordable hanging sign frame displays in their advertising and marketing strategies? Individual ceiling-hung framed graphics allows companies to present custom images and messages without taking up precious floor space. Image exhibits include the necessary hardware for mounting the overhead framing to a ceiling or wall. This single hanging sign frame with foldover design, frequently called a suspended signage mount, is very easy to install. Simple brackets fasten the clips to a drop ceiling, while toggle bolts connect to a solid overhead surface with the provided chains. Our commercial grade single hanging sign frames attach to easily banner rails for dynamic graphics or signage displays. Customers are much more likely to notice marketing and advertising fixtures when set up high above the ground. Our high visibility suspended signage uses durable construction materials in order to last through numerous advertising campaigns.
What hardware is included with the suspended signage?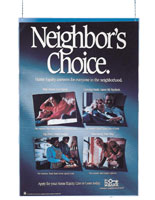 This hanging sign includes two toggle bolts and two barnacle clips for attaching the print display to the desired surface. The toggle bolts are provided for mounting the custom graphics to traditional ceilings. Real estate agencies and trade shows with drop ceilings should use the barnacle clips for installation.
Two jack chains and four "S" hooks come with the single panels for connecting the bolts or clips to the foldover framing. Two hooks attach to the ceiling mounts and the other two join the chains to the banner display.
Each custom display also includes the foldover panel or slide-in framing. Acrylic signage panels are made out of acrylic and feature pre-drilled holes so that additional frames may be attached to create a collage type display. These acrylic panels are available in a variety of sizes including 8-1/2" x 11", 11" x 8-1/2", 11" x 17", 17" x 11", 18" x 24", and 22" x 28". The frames are not adjustable for portrait and landscape orientation, but must be purchased in the desired format. Slide-in frames have an attractive border to augment the content.
This type of sign frame features a clear foldover panel that protects art or advertising. The transparent design allows users to create double sided displays for twice the marketing or wayfinding power. Real estate agencies, trade show vendors, or sales managers can create special messages for patrons entering or exiting business with this type of easy to install bracket. This sign comes in many different sizes to accommodate the precise dimensions of the custom image. Suspended signage will present standard 8.5" x 11" print outs, 11" x 17" documents or standard movie prints. Single graphics frames can even showcase hand written messages, such as daily specials or limited time sales. A wall or ceiling-hung bracket can be a very effective means of marketing.
The single poster hanger offers a great deal of versatility for real estate, trade show and other business promotions. Each banner display is certain to secure the custom prints from potential damage. Hard acrylic foldover designs stop dust and dirt from entering the framing. Slide-in hanging poster models come with a plastic lens that provides the same security. The top loading exhibit even includes an insert that can be used as a backer or wet-erase board for messages written in marker. A ceiling-hung or wall mounting overhead bracket proves useful in almost any setting. Present custom banner displays in the lobby, by the checkout counter or above advertised product lines. There is certainly a space in the establishment for a foldover print exhibit.