LED Frames for Wall or Countertop Mounted Illuminated Signs
---
LED Frames - Wall & Counter Mount Backlit Displays with Black or Silver Borders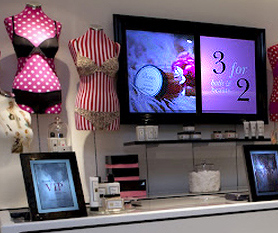 Do you want backlit LED frames that can be used with regular graphics as well as translucent signage? Our acrylic sign holders can be used with or without specially printed posters. Perfect for restaurants, retail stores, galleries or any commercial business establishment, thin-profile wall or tabletop LED frames draw attention in any location. This style of lightweight, high visibility framing is also energy efficient, requiring less than half the wattage of standard incandescent or fluorescent lights while offering more than double the expected bulb life. Economical LED frames, sometimes called acrylic light panels, are perfect for brining life to messaging graphics or promotional signs. Simple backer-plus-overlay style desk or wall mounts allow posters or images to be swapped out easily, while the neutral borders complement any color graphic or décor.
What are the best uses for acrylic light panels?
LED frames make great menu displays in restaurants, bars, bistros and other food service environments. The lightweight aluminum holders are available in single, desk or counter mounts for showcasing signs for specials, and in 1-4 image multi-poster configurations for window or wall mount menu displays. LED backlit signage not only attracts attention, but is significantly easier for customers to read.
Retail stores are perfect locations for lightweight and slim acrylic light panels. Promotional messages, images and advertisements for sales or specials will "pop" when backlit. In addition, the thin profile fixtures will not take up excess wall or table space. Easily swapped images keep every tabletop or wall mount sign up to date with changing promotions or special events.
Lightweight and energy-efficient sign displays are perfect for use at offsite events such as trade shows, conferences and even hospitality events. Vendors, presenters and service providers can use this type of high visibility slim aluminum framing to draw attention to wares, products, presentations or specials.
Commercial business enterprises and organizations use LED backlit signage to advertise services, for wayfinding, and to promote products and specials. Because this type of digital picture frame does not require specially printed high resolution imaging, posters and signs can go straight from any PC or Mac printer to the sign holder. Slim backlit aluminum frames with black or silver borders give a professional, stylish look to any images or messaging, whether "regular" or high resolution.
The ability to use regular paper makes these economical acrylic light panels a smart choice for any business. However, companies that wish to draw even more customer attention can use high resolution translucent graphics that provide maximum visibility and unrivaled luminosity. Each slim aluminum frame incorporates diffusion patterns in the backer to evenly distribute the backlighting across the entire image. And even when used 24/7, low-energy LED bulbs will last more than 10 years and use a fraction of the electricity of "regular" bulbs.