Light Box Stands & Backlit LED Signage Displays
---
Poster Light Box Stands - Free Standing Backlit LED Frames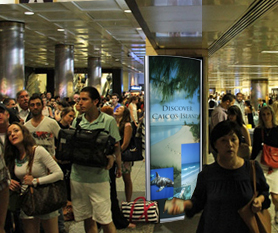 What makes light box stands such great advertising or wayfinding displays? In addition to their hard-to-miss size, these economical lighted sign displays feature brilliant backlighting that makes images, graphics and text stand out anywhere. Our poster light box stands are designed for use with graphics printed with high ink saturation on translucent acrylic material in order to provide the most eye-popping colors and best contrast possible when illuminated. This type of fixture uses LED bulbs to provide customers with information that is literally easy on the eyes, from high-visibility menu stands in restaurant entrances or reception areas to boldly lit full length banner advertisements in transit concourses that are visible in any level of light. Freestanding light box stands, also known as illuminated poster displays, are also one of the most environmentally friendly lighting options currently available, allowing businesses to reduce energy spending without sacrificing visibility. From simple photo-sized backlit frames advertising events to monolithic freestanding poster mounts with matching decorative acrylic base panels, our wide selection of designs, sizes, finishes and styles makes it easy to find a floor-standing fixture to match any business or display needs
What kind of businesses and locations use illuminated poster displays?
Light box stands offer high visibility even in smaller sizes. Restaurants, event centers and other food service establishments find that backlit menu signs will not only attract customer attention in high traffic areas, but also assist in menu legibility in dimmer light without disturbing diners or impeding ambience.
Concourses and hallways are perfect locations for poster size light box frames. Mass or public transit stations, malls and trade shows in particular have fast-paced, high volume traffic and need advertising or marketing signage that can be easily seen by people "on the go." Free-standing snap open illuminated poster display stands fit the bill perfectly, as they offer maximum visibility due to both size and illumination, and the easy-access design means that graphic changes can be accomplished quickly and efficiently as needed.
Lobbies, atria, reception or waiting areas frequently use pedestal-style metal and acrylic lightbox stands to present wayfinding or directory information to patrons and customers. Illuminated frames make it easy for businesses to create custom, professionally printed information stations that offer high visibility signage at any size from photo to large scale graphic, in any environment. This type of open environment is also ideal for larger size LED poster displays for advertisment and marketing campaigns that will attract attention, and is easier to change than traditional printed banner advertising.
Retail and commercial businesses alike need to draw customer attention to promotions, sales, and new or special items or services. Floor standing LED backlit frames are perfect for placing on the sales floor, in entryways or in waiting areas. Simple snap open acrylic framing makes it easy to keep up with changing promotions as frequently as necessary.
Our backlit LED signs and holders are designed to make it easy for any business to present custom printed, branded marketing, advertising and information displays to their clientele in any environment. From small stands for restaurants or trade show booths to full size photo-quality poster stands almost six feet tall, there are commercial grade illuminated display frames that are perfectly suited to any business needs.