Poster Hangers, Banner Rails & Hanging Sign Kits
---
Poster Hanger Systems - Suspended Sign Grids & Banner Rails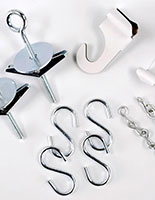 Where are poster hangers used most effectively? These simple hanging graphics displays provide quick solutions for suspending large signs and promotional ads in commercial, professional and retail environments. High visibility poster hangers, frequently called banner rails, are commonly seen in storefront windows to advertise the latest merchandise or service options, in offices to showcase new or special services, and in showrooms to draw attention to specialty or sale producs. Clothing stores, convention centers, and art galleries use economical overhead or window signage displays to promote sales, shows, or events as well! AllPosterFrames.com offers low wholesaler pricing on all different types of hanging signage systems, including banner rails, matrix kits, and general hardware. One of the main advantages of a poster hanger for displaying advertising or marketing signage is that it will not take up valuable floor space and can be mounted in creative ways. The growing popularity of suspended sign frame systems is due to the fact that they make promoting merchandise or services in a window or a glass doorway very simple. Some of our products even include suction cup mounts that attach very easily to smooth, non-porous surfaces.
Where is a banner rail or hanging sign system generally used?
Poster hangers and overhead signage frames are often used in retail storefront windows. This location is "prime real estate" for any business and is ideal for showcasing in-store sales or promotions. Why not draw more customers in off the street?
A hanging sign display is also great for banks and financial centers. When the holders are used in a investment businesses and lending/loan offices employees can easily post and change interest rate messages or other stock portfolio information.
A window-mounted poster frame with suction cups is great for delis and take-out restaurants. Just install one of the units to keep daily specials up to date. The 8.5" x 11" sized kit is perfect for these applications simply because it enables the user to make standard printer paper into effective signage. This feature is very popular amoung small businesses as it eliminates large printing house costs.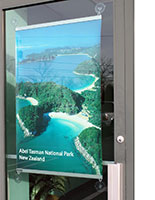 With a myriad of options--from basic economy plastic rails to upscale aluminum snap holders--there is an option for all budgets. When suspended from a ceiling, these graphic hangers save valuable space on the floor and wall for other store fixtures or additional and advertisements. Likewise when the sign hanging systems are mounted from windows, they will draw in customers from the street while displaying another set of pictures or prints inside the establishment. Increase your promotional power by showing signs to potential clients walking by outside as well as those patrons already inside. In retail, sometimes it makes more sense to use graphic hanger displays to create more room to walk around. Other times they are used as a directory or labeling system for aisels. Retailers can denote any specific or featured items with ease using the print hangers. Of course the sign systems are not just for retail settings. They are also very effective for delis or banks to inform clients where lines start or give other instructions. Never have confused customers again when you explicitly show them where to go! If you operate a bank, show customers which tellers are for business banking. Or if you run a restaurant, label which counter is designated for take-out orders. There is a full range of sizes to accommodate smaller graphics, medium sized images, and very large posters, like movie bills or even printed artwork.
Our company likes to change displays often, are there systems which would help us with our evolving advertisements?
Poster frames that use acrylic panels are a great option for varying displays. Not only do the top loading panels offer an ideal way to keep images dust-free but also they allow users to swap out prints in just seconds. The versatility of these sign grids does not end there though, as the panels themselves can also be rearranged and combined to form intricate matrixes for completely custom presentations. Of course, single panels and individual hanging components are available in this category as well.
We also offer simple hanging hardware that can be used with a number of different types of displays. We carry S-hook kits that include jack chains or nylon line. The nylon line, also called monofilament line, is very popular because it is nearly invisible compared to the signage it is hanging.
The ready made picture and photo display systems for sale here are great for every application. Showcase small prints, art, and advertisements above popular merchandise to entice more customers. Larger print & picture hangers are great for in-store signage that is suspended in storefront windows. Theaters feature upcoming plays and movies, while real estate agencies detail local properties that are currently for sale. Other venues, like convention and event centers utilize them because of the large amount of clearance over head. There is a solution for every advertising need, so check out all the selections today to discover the model that will work best for your business or other application.