Backlit Poster Frames for Indoor, Outdoor, Wall or Window Displays
---
Backlit Poster Frames - Wall, Floor and Hanging Illuminated Graphic Displays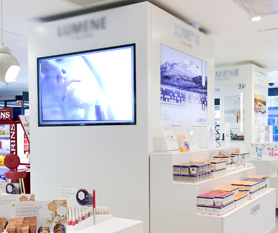 Why choose backlit poster frames over "regular" picture framing? One word: Luminance. The days of being able to describe the brightness of a light bulb in terms of wattage are on the way out. Today's energy-efficient lighting has come a long way from the days of incandescent bulbs or thick, bulky enclosures. Our aluminum backlit poster frames primarily use small LED lights or high-efficiency fluorescent tubes to create soft, bright illumination that makes graphic images "pop" when lit from behind. This type of versatile, customer-attracting signage was once seen almost exclusively in movie theaters but benefits almost any commercial or professional environment. Designed for use with pictures or images printed on translucent material, the modern snap open light box is a slender, thin-profile fixture easily mounted on walls or in windows, indoors or out. Backlit poster frames, known as illuminated sign holders when used for business signage displays, are an economical, energy-efficient and eye-catching alternative to traditionally printed graphics. When combined with lightweight aluminum framing construction and easy-open designs, these graphics holders become one of the most cost-effective advertising or marketing displays available.
What factors make illuminated sign holders a great choice?
Backlit poster frames use either fluorescent or, increasingly, LED lights. These energy-efficient fixtures use approximately half the energy of "standard" bulbs, while taking up significantly less space and generating brighter illumination. Our Economy line uses 2-chip/6mm LED panels, while the Deluxe versions have 3-chip/8mm configurations.
Diffusion is the technical term for how light spreads from the source (or bulb) to the object (in this case, the printing on the translucent signage used in the backlit poster light boxes). LEDs use different diffusion patterns to eliminate hot or cold spots and ensure that the light spreads as evenly as possible. Silk-screen printing creates the pattern for Economy models, whereas Deluxe LED illuminated sign holders use a CNC-laser engraved diffusion pattern.
The cost-effectiveness of LED lighting has been proven by years of use. On average, a T8 fluorescent tube uses 65 watts per hour; a T5 tube 54 watts and and LED only 34.5 watts. However, the biggest difference is in the lifespan of the light bulbs - fluorescent life span is generally in the 10,000 hour range, but LEDs will last up to 100,000 hours of 24/7 operation. That translates into over 11 years of constant use for our LED backlit poster light boxes.
Translucent snap open signage holders are available in a number of easy to use configurations. Printing can slide in, snap in or be easily accessed through swing-open, weatherproof doors. The ability to change graphics quickly is imperative for many businesses, and not having to un-mount a wall in order to swap pictures is as important to a restaurant as it is to a movie theater or retail store.
In addition to being lighter (in both luminosity and weight), less costly and more efficient, our LED illuminated sign holders come in a range of sizes, finishes, and construction styles. From simple tabletop displays to outdoor wall mounted signage, these lightweight aluminum frames will complement any environment and meet almost any visual display need. Movie theaters have long used these fixtures as wall signs to draw attention to upcoming releases. However, restaurants, retail stores, hospitality environments and more are finding that this style enclosure, combined with full color custom printing, is superior to traditional non-illuminated advertising displays.