Poster Light Boxes are Backlit Frames with Fluorescent & LED Illumination
---
Light Box Frames for Advertising, Movie Posters & Graphics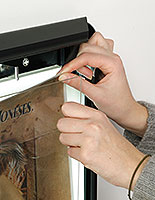 Why use poster light boxes or illuminated display frames to showcase promotional graphics and signage? Our ready made backlit framing options are an economical way to attract maximum attention to public advertisements, signs, artwork, and marketing materials. In addition to classic movie poster light boxes for advertising upcoming theater events, commercial quality lightboxes are ideal for use in retail and professional environments. While illuminated panels can be used with standard graphics, they are most effective when combined with pictures or messaging printed on special translucent materials. AllPosterFrames.com offers ready to use commercial poster light boxes, or backlit picture frames, for sale in wall mount, freestanding, and counter styles and in a full selection of graphics sizes. Many panels also come with the option to include full color printed panels with custom branding, marketing, or ad content. From countertop retail poster light box frames advertising sales events to freestanding advertising LED framing for oversize graphics, our selection of edgelit, backlit and fluorescent lightbox display fixtures will meet any need.
What styles of backlit picture frames are available?
Wall mounted poster light boxes are just as common in retail store environments and public concourses as in movie theaters. Large-size 27" x 40" and 24 x 36 graphics printed on translucent materials will attract maximum attention in high traffic areas when illuminated with brilliant LED or fluorescent lighting. Lightweight aluminum construction and easy-change snap frame technology allow fast image swapouts without removing the fixtures from walls.
Ultra-slim and countertop lightboxes are backlit picture frames that fit almost anywhere. These models are most popular with retailers because they can be set up on retail display tables or at point of sale checkout stands near registers. They have also been used successfully by many restaurants and professional businesses to advertise specials, services, and sale information.
Floor stands for marketing displays are common in shopping malls, sports arenas, airports, and other venues with high foot traffic. In many cases, the light boxes are used for advertising signage but they are also quite effective for displaying directory or wayfinding information. Many of our double-sided freestanding light box stands are designed with locking enclosures to mount oversize graphics in busy public areas.
Storefront hanging light boxes are designed for window mounting in retail environments, theaters, convention centers, and areas with limited wall space. Single and double-sided overhead mounted backlit picture frames are effective in large, open areas such as concourses, arena walkways and lobbies, as well as in windows.
What other options are available with a lighted poster frame?
Illumination: T5 fluorescent bulbs have a life of about 15,000 hours or 1.5 to 2 years. The great thing about these bulbs is their luminescence, as they are the brightest light boxes available. In contrast, energy efficient light emitting diodes, or LEDs, will last 11 years when used 24/7, and require significantly less electricty to run.
Diffusion: Backlighting and edgelighting sign panels means that the illumination passes through the graphics and makes them appear to "glow". Diffusion technology has been developed for engraving or silk-screening diffusion patterns to maximize luminance and eliminate hot or cold spots that impede visibility.
Frame style: Wall mounted light boxes and free-standing LED backlit displays are sold in snap-open and swing-open designs. Slim, thin-panel designs take up minimal depth, making them an ideal choice for use in public areas with heavy foot traffic. Countertop illuminated picture frames can feature simple magnetic or top-load construction due to their much smaller size.
When used with custom backlit graphics, commercial light box frames offer unparalleled visibility. Many of our illuminated display frames include full color printing on translucent backers designed for maximum luminance. Branded advertising, marketing messaging, artwork, or simple wayfinding signage will all draw maximum customer attention when displayed in our thin edgelit panels.
Energy efficient and economical lightboxes for every size graphic stand out in any setting whether they are mounted on a wall, displayed on a sales floor, or placed in a storefront. This type of versatile advertising panel is designed to make signs effective both day and night. Choose from our full selection of ready made framing with LED or fluorescent backlit illumination to find the size and model that offers the right energy consumption and brightness for any business, store, or organization's visual display needs.