Slide-In Frames with Top or Side Loading Design
---
Frames with Slide-in Side or Top Loading Configurations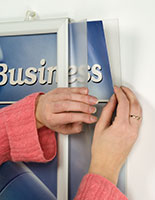 One of the most effective ways to get marketing messages and advertisements noticed is to use a slide-in frame. The innovative layout makes postings much easier to swap out and update. As a result, the top and side loading poster holders are better for business applications where signage changes quite frequently. Slide-in frames can be left on the wall while the graphics are updated, which is one of the main reasons so many customers continue to purchase them. An open channel is found along either the top of the side edge of the framing. This way, posters can be inserted with little effort and will not fall out while on display. Most of the slide-in frames, or side loading poster holders, are designed to be hung on the wall. However, there are some units that feature eyelets for suspension systems. These framing options are great for placement in storefront windows but can also be hung overhead in a showroom or gallery. Check out the comprehensive selection to locate the most viable display for your particular application while considering a few key points highlighted below.
What options are available for these top & side loading print holders?
The slide-in frames are sold in many different sizes to fit most any graphic dimensions. Smaller sizes are ideal for letterhead signage, while larger models accommodate full-sized posters.
As mentioned above, most of these selections are designed to mount on the wall. Some feature simple hanging hooks while others have metal hardware that screws into the surface. There are even a few suction cup frames that stick to glass windows and other non-porous materials.
Almost all of these side and top loading poster displays have a traditional flat design, but there are a few that stick out from the wall and have a curved layout. These curved units often feature additional components, like pockets for magazines, brochures, or both. Literature trays are ideal for showcasing a poster while reinforcing the message with printed publications.
While the majority of the framing designs will work for both landscape and portrait graphics, there are several that only support one or the other. Be sure to make this consideration when comparing different models.
Smaller frames can be used to label office doors and other locations throughout corporate offices and buildings. Some businesses also use the print holders to provide a customizable platform for showcasing information outside of shared or multipurpose rooms. Conference areas are sometimes labeled with a sign, graphic, or message that is specific to that day's proceedings. Bulk purchasing is available for every model, so buyers can outfit their entire establishments with a matching batch. The resulting presentation is both professional and uniform, which is very important to serious companies. Put up just one or several frames to develop a clear and readable directory. For the letterhead sizes, users can even print out their own sign displays from any office printer!
What is a non-glare lens and how does it work?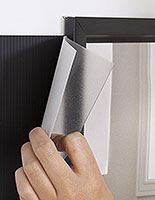 While most every option includes some sort of covering, not all are outfitted with non-glare lenses. Larger models tend to feature flexible plastic overlays that are durable yet lightweight. This way, users don't have to worry about damage to their important prints.
The styles that do include non-glare covers help combat the effects of bothersome overhead fluorescent lighting, which is all to common among offices and retail stores. A special pattern on the surface of the acrylic breaks up entering light particles, so they do not reflect. The result is a sign that can be seen from any vantage point regardless of overwhelming or obstructive illumination.
Make sure to read the full item description for details about whether the supplied lens is non-glaring or just a clear plastic overlay.
Tons of businesses are searching for the most creative ways to garner exposure. The hope is that more attention will increase sales and ultimately profits. These picture, art, and promotional ad holders do exactly that by captivating bystanders while focusing their attention on specific information. Everyone will stop and notice the marketing sign presentations in these sign fixtures. No matter what the application may be, these print displays are easy to put up and are even easier to update with new graphics.