Frameless Frames in Glass or Acrylic for Wall and Countertop Poster Displays
---
Frameless Graphic Frames - Ready-Made Borderless Holders for Pictures, Signs & Advertising Posters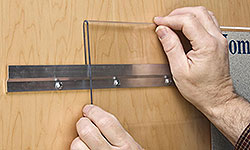 Are you looking for economical frameless frames to showcase a picture, menu, advertisement, or sign? Borderless acrylic or glass poster framing offer some of the most cost effective yet highly functional and stylish display mounting solutions available. AllPosterFrames.com offers a huge selection of no-border framing in different sizes, materials, and mounting styles for graphics of all kinds. Our ready made frameless frames will meet any need, from the transparent no border sign displays commonly seen throughout retail stores, professional offices, and public buildings to the magnetic acrylic blocks found on restaurant tables, bars, and reception desks. No-frame picture mounts includes lighter, less expensive materials such as lucite and plexiglass in addition to highly economical plastic. Clear glass frameless frames, or borderless picture frame enclosures, are a great style for showcasing anything from office wayfinding signage to top-quality restaurant menu or specials lists. Our commercial quality poster, signage and advertisement no-frame picture display framings is ideal for keeping customers and visitors informed while protecting valuable signage from damage or tampering in public environments. Whether made of durable glass or economy acrylic, these borderless poster holders offer elegant style, convenient easy to use design, and budget-friendly pricing all in one simple fixture. All framing styles listed for sale on AllPosterFrames.com offer bulk wholesale pricing on every order, as well as fast shipping.
What are the different styles of clear glass or acrylic picture framing?
Top insert frameless frames for posters and signage feature a simple design that allows users to simply slide new graphics in whenever needed. Small magnets in the upper corners of each enclosure hold images securely in place. These high visibility, stylish frames come with easy to install silver mounting standoffs for a modern, clean look that complements any environment. These acrylic poster holders without borders are ideal for fast-paced service businesses such as travel or real estate agencies, financial establishments, schools, and retail locations that use this type of enclosure for postings and advertisements that change frequently. The simple design makes loading new inserts easy, fast, and allows swapouts without unmounting the enclosure from the wall.
Glass clip frames and plexiglass sign holders have two clear panels that are joined together together with metal or plastic clamps for stability. When wall mounted, these transparent picture displays are sturdy enough to be used as store directories, restaurant menu or specials lists, and holders for works of art. From simple clip-together frames for letter-size graphics to sign holders with edge-grip metal standoffs, the many styles of enclosures allow these elegant borderless glass and acrylic frames to complement any poster as well as any environment.
Acrylic foldover frames feature economy construction with a built-in mount. The simple fold-over design allows the framing itself to function as a mounting bracket while allowing graphics to slide easily into the sides for fast changeouts. Smaller plastic wall mounts include a rear notch for hanging the display on nails or screw heads. Most larger size borderless poster frames come with all hardware required for secure installation. The largest graphics hangers include a metal mounting bar for maximum stability when installed.
Slatwall mounted acrylic sign holders are compatible with almost any wall-mounted or freestanding slat-wall panel or fixture. The groove-back design allows the clear plastic promotional material displays to attach easily without the need for tools or hardware. These borderless framing accessories are perfect for showcasing sales, product, or pricing information in retail or commercial environments, and allow easy graphics changes as well as being easily moved between locations as needed.
Magnetic lucite block framing is designed for countertop display without mounting hardware. These displays feature dual panels held together by small magnets in each corner. These elegant countertop fixtures make it easy to load or change graphics or signs whenever needed. Fast-change borderless sign block frames make superior point of sale advertising accessories as well as tabletop menu displays.
How are borderless frames installed or mounted?
Standoff mounting gives a look of elegance to signage in any location. The 3-dimensional effect created by through or edge-grip mounts is ideal for illuminated borderless displays, and will give an upscale look to even the simplest acrylic foldover or sandwich mount.
Clear acrylic wall hanging sign holders feature pre-drilled mounting holes that require only a simple screw or nail for installation.
Wall mount plexiglass and glass clip frames have rear mounting grips and/or hanger hooks for easy installation on vertical surfaces. Our larger poster-size models include all required mounding hardware such as standoffs, screws, or anchors. In contrast, many smaller size sign holders include easel-style backers for counter use.
Suction cup mounting is designed for use on non-porous surfaces, making it ideal for use on windows and doors. This type of simple poster hanger is ideal for storefronts and customer-facing displays. Suction-mounting is a perfect choice for double-sided signage such as business operating hours, sales information, or for use as an open/closed sign.
Top-loading frames with magnet enclosures are available in a full range of sizes and offer a variety of mounting styles. Basic lucite & acrylic display fixtures are ideal for use in any commercial or professional location. Clear heavy duty plastic picture holders can be used for displaying signage, advertising, promotional or sales materials, and menus as well as photographs, artwork, or messaging. These simple plastic sign mounts come in a variety of styles designed for counter, window, or wall mounting.
New styles of ready made picture and photo framing are added to our inventory all the time. Our engineers and merchandisers work very hard to assure that this style of clear print displays is largest and most comprehensive available on the web. The print holders offered are made for small and large postings, movie poster prints, art, and retail signage. Our selections are fantastic at garnering lots attention and making sure that the contained messages and graphics are noticed! Many graphics supply houses order supplies for picture postings, and then resell them at marked up prices. Our ready made clear glass and acrylic enclosures are available at wholesale prices, straight from the source, for maximum customer savings. Why pay more for picture or art hangers? Every item offered for sale on AllPosterFrames.com offers built-in wholesale pricing discounts, and the majority of orders will ship the same day as the order is placed.