Poster Snap Frames with Front-Loading Designs
---
Snap-Open Poster Frames & Front-Loading Quick Clip Enclosures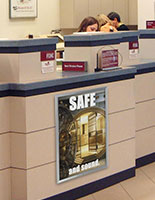 Does your commercial business, organization, or retail establishment require graphics display framing that can be quickly and easily updated? These innovative poster snap frames have spring-loaded borders that release for quicker image changes. The convenient front-loading design makes the process of changing out advertisements, art, and other promotional messages much faster than traditional wall framing options. Aluminum poster snap frames, also referred to as quick clip framing, is available in a variety of styles and sizes. The number of different configurations allows customers to easily find the print holders that will be most effective for their needs. Typically, buyers range from retailers and vendors to individuals and hobbyists. Because there are so many unique uses, AllPosterFrames.com sells our wholesale poster snap frames at extremely affordable prices for low quantities as well as for ordering in bulk. In addition to the practical front-loading design, the quick clip frames are crafted from economical aluminum and other durable materials to last through years of use. For this reason, the print displays can withstand heavy use in in high traffic areas. In general, the ease of use and versatility of this type of easy-access commercial grade framing makes it a superior choice for business use in a wide variety of environments.
How does quick clip framing work?
A poster snap frame differs from a traditional picture display in that they are much simpler. Usually the backing must be removed in order to insert new prints or art on a regular print display, but these styles are spring-loaded along each edge. As a result, the border snaps open for easier front-loading access.
Once the edges have been snapped open, the non-glare lens is removed as well as any old display information. New poster or picture displays are placed underneath the lens, so they stay protected. The lenses are manufactured from a thin plastic material rather than a heavy glass for a rugged yet lightweight solution.
After fresh print art or promotional inserts are properly situated, the edges are simply pressed back down. The borders securely hold information and signage, so creating a professional presentation is easy every time. Just repeat the procedure when a newer poster is needed.
What are the different types of snap-open poster framing?
Sizes include options that fit letterhead prints and other smaller signage as well as large displays for extra tall and wide graphics. Most of these models mount on the wall, although some choices may include an easel backing for a tabletop presentation. A number of finish options allow users to create color-coordinated displays as well. Showcase anything from office signage to family portraits with these units.
Medium sized holders are better for promotional prints and typically run from 16" x 20" to 24" x 36". These styles work well for exhibiting marketing information in locations like banks, retail stores, and other businesses. Again, a wide assortment of finishes is offered.
Large format displays commonly fit items like movie poster art and other sizeable advertising prints. These units tend to vary a bit more than the others in design, so be sure to look at all the different profiles and designs.
Some of the frames for posters are made for outdoor use. These exterior enclosures are the same as those detailed above, but they are specially made for attachment to an outside wall at a business. Waterproofing and rubber gaskets keep important inserts dry and safe from the elements. In addition, the framing features locks to prevent tampering and vandalism.
Many types of graphics can be displayed, including movie poster prints, advertising posters, directional signs, and art. Most framing selections include cover lenses that protect the graphics. Of course, the premier feature is that the frames snap open and shut allowing for "quick change" ability. In addition to protecting an art or picture display, the poster frames securely grip signage. Several color options ensure that the poster framing is enticing and looks fabulous in any setting. Most every model is made from strong metal to protect posters, like movie art and other promotional graphics. Browse aluminum frames with snap edges as well as many other poster hanging options at AllPosterFrames.com!