Top Selling Poster Frames | Most Popular Graphics Holder Sizes & Styles
---
Best Selling Poster Framing - Customer Favorite Metal, Plastic & Wood Graphics Frames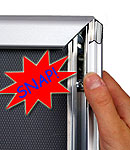 With so many different models, how can customers know which wholesale ready made poster frames to choose? Our "best sellers" category encompasses readymade picture framing models that are customer-tested and approved. These top selling poster frames, also called photo holders, are available in single or bulk quantities at low wholesaler pricing. Each style has its advantages, but they all work great for presenting print art, movie posters, marketing postings, and more! The poster framing designs that are most popular include quick clip styles, movie poster displays, acrylic holders, easels, and sign stands. The diverse selection is appropriate for both commercial and home/residental use. These best-selling poster frames are theater bill fixtures commonly used in retail environments to advertise and promote limited-time offers or upcoming events. Selecting the most viable poster framing depends on each buyer, but AllPosterFrames.com helps simplify the process by providing this narrowed down cross-section top choice graphics displays chosen by our customers. Visual advertising is essential for promoting sales, services, merchandise lines or simply showcasing decorative artwork. Our huge selection offers bulk pricing and fast shipping on poster frames in many styles, such as wall mounted, ceiling hanging, floor standing, and outdoor configurations.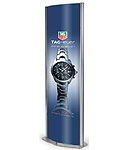 What are some popular uses for graphics frames?
Our top selling poster framing sizes and styles run the full gamut of available models. Every location, whether business or residential, has different needs, which is why there are so many graphics display options.
Any store entryway can benefit from including a print framing solution. Models approved for exterior use are typically placed in front of restaurants, movie theaters, shopping malls, and other locations that see lots of pedestrian traffic. Luring consumers into an institution can be difficult. Lobby stands, sandwich boards, and wall mounted enclosures are the solution to this problem.
Schools and other educational establishments are continually looking for ways to feature student art or gallery-style postings of informational or inspirational prints. These locations often benefit from quick clip picture holders that are easily updated, to accomodate frequent changes in lesson plans and projects.
Professional environments such doctor's offices, medical facilities and other service businesses often display diplomas or certifications where customers can easily see them. Other businesses hang directional signage or prints of corporate buildings to assist visitors and clients.
Museums and art galleries often order painting display framess in bulk quantities to showcase entire collections. The savings that they get from wholesale purchases is one of the main benefits of ordering from the huge selection online at AllPosterFrames.com!
Of course, people can use large-size graphics displays at home to highlight family pictures, artwork and much more. The wide variety of sizes, styles and finishes available makes it easy to find a fitting holder for any visual display.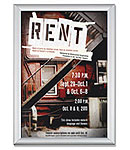 In addition to showing commercial advertising, movie posters or art, poster holders can showcase treasured personal photographs. Several smaller sizes are perfect for large family portraits or yearly school pictures. Most of the readymade poster holders come equipped with a lens or overlay, so users do not have to worry about damage to valuable images or advertisements. Quick clip units are among the fixtures that are purchased most often due in part to their heavy duty designs and efficiency. Fast and easy sign changes and picture updates are possible with these selections. As a result, retailers and homeowners alike frequently take advantage of their functional designs. Some of the quick clip styles may be used for outdoor applications, as well. For this reason, commercial associations and movie theaters frequently use this type of durable outdoor graphics holder to attract passersby. A wide array of sizes is accessible, so just about any print can be accommodated by these versatile fixtures or advertising notice displays.